Algebra Review - Multiplying Polynomials
1. Multiplying (x + y) and (x - y)
This is the basic way to do it.

Use a method called FOIL. First multiply the first terms, which are x and x and you get x2. Then multiply the outside terms, which is the first x and the last y to get -xy. Then multiply the inside terms, which is the first y and the second x to get yx or xy. Lastly, multiply the last terms, which is y and y to get -y2. Then add everything together: x2 + (-xy) + xy + (-y2) = x2 - y2.
So remember the basic rule:

.
---
2. More Binomial Multiplication
Here are some basic examples: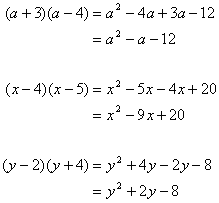 ---
3. Exponents and Products
5 · 5 · 5 · 5 = 54
x · x · x · x · x · x = x6
(-y)(-y) = (-y)2
And so on.
Memorize the following rule. When you multiply powers where the base (the big size number) are the same, you just add the exponents:

| | |
| --- | --- |
| Some examples: | |
---
3. Multiplying Polynomials and Monomials
To multiply the following, just multiply the outside term with the first term, then the second term. The examples should be enough for you to understand.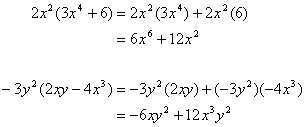 ---
4. Squaring Binomials
Another basic rule to remember when squaring this: (x + y)2